Will You Be My Player Two?
Britt Franklin


In essence, I think most proposals would fall under the "nerd" category. They tend to cater to something one or both partners care deeply about, whether memorable location, shared activities, or a favorite game that took hours, days (weeks, even!) to conquer—things the couple would geek out about together. Isn't that what love's all about?


1. Peachy Proposal


Salainen(http://salainen.tumblr.com) proposed to her boyfriend with an awesomely homemade question block from Super Mario Bros. as the ring box. (To see the construction of it, click here. (http://salainen.tumblr.com/post/27972816339/my-ring-box-has-been-getting-quite-a-lot-of)) He said yes, and now the couple have years of mushrooms, Koopas, and Tanooki suits to look forward to. Or at the very least, a happy future together…crushing Goombas.


2. The Gary Hudston Project
Video
This video went viral in 2011, but it's worth bringing around again. Portal 2 fan Gary Hudston found two awesome level designers to help him with a super-special, super-secret mission to surprise his girlfriend, Stephanie. The designers went to work creating an intricate three-level map that ended with a marriage proposal, and threw in an added bonus with the vocal talents of GLaDOS actress Ellen McLain, who recorded some original material for the surprise. In a nutshell, you've got a Portal proposal that's tough to beat.


3. I Heart Aditi
Video
When Google employee Raj Hathiramani gifted his lady love Aditi with a brand new Nexus 7 on Independence Day, he made sure to pre-load it with a shmorgishborg of apps she loved. That would have easily been enough to make a girl's digital heart go aflutter; however, in addition to a few of her favorite things, he included a video of their family and friends showing their love for Aditi with heart-shaped hand gestures plus some very important promises of his own. Love, honor, and never drain the battery life of her tablet without the charger on hand, perhaps…?


4. Movie Magic
Video
This proposal had over 23 million views, and somehow, I'd never seen it. Ginny thought she was merely in for a viewing of Fast Five with her brother, but along with hidden friends, family, and a hundred or so strangers, she was surprised with a movie trailer starring some familiar faces. Check out her reaction as she realizes it's the voices of her boyfriend, Matt, and her father up on the big screen and the subsequent mad dash the leading man makes to get to the theatre to pop the question.


5. Splash!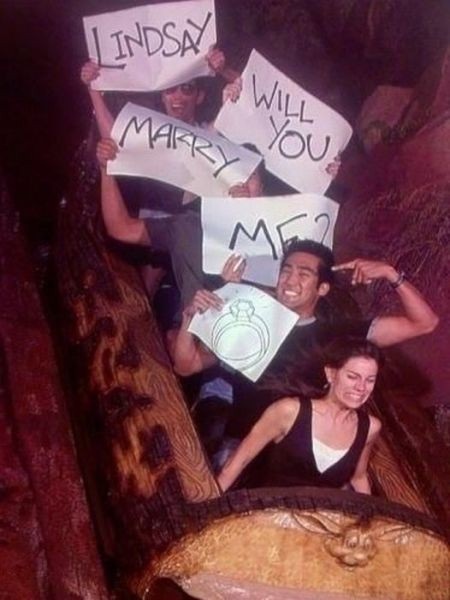 For the DisNerds out there, you can't go wrong with a surprise proposal on one of the theme park attractions. As a huge fan of Splash Mountain and staging ride photos, this was perfection to me! After practicing holding up the signs sans-Lindsay the day before, then-boyfriend Chris and friends put the plan into action. Keeping the paper safe in a backpack until making the final ascent to the top of the mountain and hiding them as soon as the photo was taken, Lindsay was left unaware until the picture went up on the screen.


There are plenty of other fantastic proposals out there, and I may have worked myself into a ball of emotions trying to pick this bunch. It's always great to see that a little romance still has the ability to bring the nerd out in all of us. Congrats to all of these couples!